Kuno the Tank Engine 6 is the 6th episode in Felix Cheng's "Kuno the Tank Engine" series. It was the last video before his original account was suspended.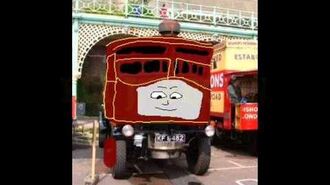 Songs used
Edit
Characters
Edit
Thomfunk as Harvey
TugsFan12's Son as Fergus
ThomasCho58 (As TC58 in the original, and incorrectly ThomasChoo58 in the revision) as Whiff
Eli J. Brown as Elizabeth
Catalanoarts as Stepney
iNEVERcare as Mavis
Eli original asked to be Toad. But it was likely Felix chose him to be Elizabeth instead due to his name "Eli" being the first 3 letters in Elizabeth. Because of thing, Eli was fine with his decision. AllAmericanBoy9 however would later make Eli J. Brown as Toad in his "Eddie the Tank Engine" series.
This had the least number of trolls (with 1) at the time of the release.
Coincidentally, Thomfunk also made Felix Cheng into Harvey in his "Thomfunk the Tank Engine" series. However this might not be a coincidence because having Felix Cheng as Harvey there may have been the inspiration for having Thomfunk be Harvey here.
In the original, Eli J. Brown's name was all one word (EliJBrown), but in the revision, the name was separated into the 3 individual names.