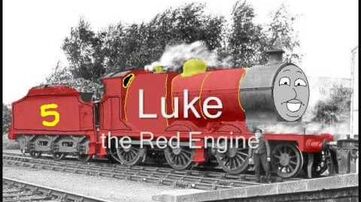 Kuno the Tank Engine G1 Part 2, originally titled "More Kuno the Tank Engine Characters", was the second video in Felix Cheng's "Kuno the Tank Engine series".
Songs Used
Edit
Characters
Edit
JDeguara as Henry
Billy806 as Gordon
Luke as James
Pervy as Percy
LeeClaxton as Toby
Pervy and Percy's names are similar since Pervy's name is Percy with the "C" being replaced by a "V"
Luke should not be confused for the green narrow-gauge engine of the same name that would be introduced into the show 5 years later. Sadly, the actual character named Luke never made it to KTTE until Generation 2. It's unknown who would have been him in the original series if it had lasted by the time he had been introduced, but in Generation 2, a user by the name Noah would appear as him.
Henry, Gordon, James, Percy and Toby being introduced in the second video of this series contrasts other people's spin-offs based on this as these characters usually appear in the first video of a series. However, this was the first spin-off series made, so other people just thought it would have been better for them to be introduced sooner. They are shown in the first episode of Generation 2.
This was the only episode in Generation 1 to feature entirely trolls, as every other episode had at least one character who was named after a good YouTuber or wasn't based upon any YouTubers (Such as Kuno and Kodachi Ranko) at all.